Frosch Automatic Dishwashing Gel All-in-1 Green Lemon
Cleans dishes, pots and pans flawlessly and brilliantly. Its formula with green lemon gel is fast dissolving and removes grease and scale. Allows flexible dosing and is ideal for short cycles. Formula with All-in-1 functions: detergent, rinse aid and anti-limescale.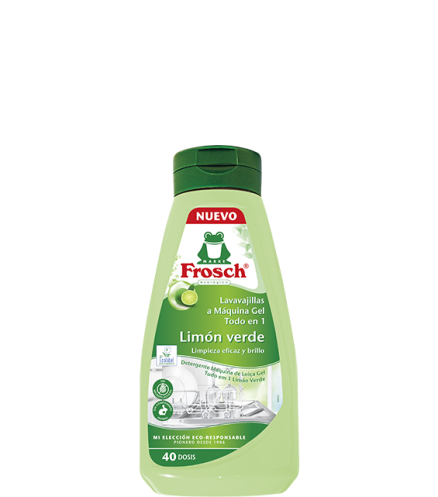 Detergent
Rinse aid
Anti-limescale
Fill the recommended dosage in the product compartment of your dishwasher. The addition of salt and rinse aid is necessary at a rate of water hardness greater than 21° dH. For more information on the hardness of your water, please contact your water supply company

Microplastic free
Water-friendly formulas clean and care without microplastics.

Free of animal-derived ingredients
All Frosch formulas completely avoid the usage of animal ingredients.