Frosch Vitro & Induction Cleaner Orange
Removes optimally all kind of dirt on induction plates and glass ceramic cooktops. The powerful formula with orange cleans efficiently and leaves a fresh orange scent.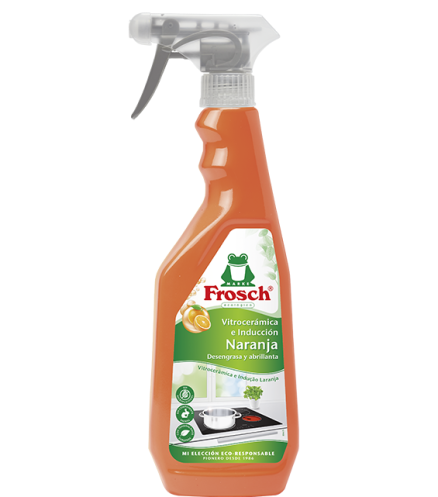 Gentle to skin
Gentle to skin Protects materials
Turn nozzle to open. Spray directly on the cold surface, let sit briefly, and wet wipe clean. If necessary, polish with a dry cloth. Do not use a hard or scratchy scouring sponge.

European surfactants
Use of European surfactants to ensure shorter transportation routes and reduced dependency on tropical oils from monoculture.

Free of animal-derived ingredients
All Frosch formulas completely avoid the usage of animal ingredients.

Microplastic free
Water-friendly formulas clean and care without microplastics.