Frosch Anti-limescale Raspberry Vinegar
Intense descaling of sinks, showers, bathtubs, tiles and fittings. The formula with raspberry vinegar removes stubborn limescale and dirt deposits and ensures a streak-free shine. Leaves a fresh raspberry scent.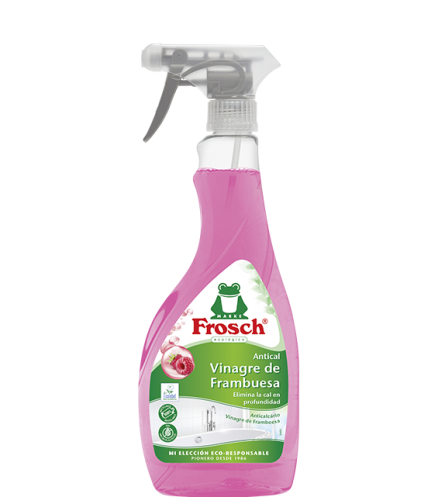 Removes stubborn limescale and dirt deposits
Ensures a streak-free shine
Removes malodour
Turn nozzle to open. Spray on, allow a short time to take effect, and wet wipe clean, then, if necessary, polish with a dry cloth.

Recycled / Recyclable
Packaging made of recycled and recyclable materials makes possible the circularity of raw materials.

Microplastic free
Water-friendly formulas clean and care without microplastics.

Free of animal-derived ingredients
All Frosch formulas completely avoid the usage of animal ingredients.