Frosch WC Gel Lavender
Powerfully removes lime, urine scale and dirt even underneath the rim. Deep cleaning with lavender. Thoroughly removes malodour leaving a fresh lavender scent.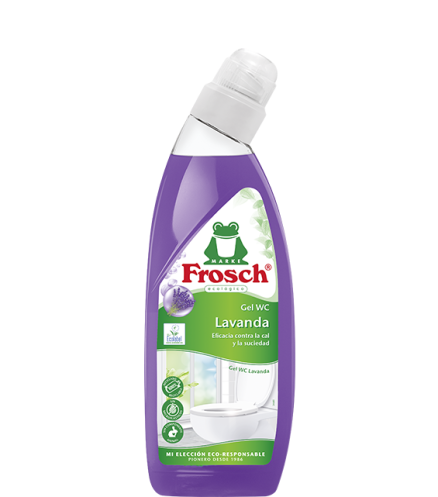 Powerfully removes lime
Deep cleaning
Squeeze safety cap and unscrew. Squirt the cleaner into the toilet bowl and underneath the rim, let sit for a few minutes, use toilet brush if necessary, and flush away.
< 5 % anionic surfactants, perfumes. Further ingredients: lavender oil, cosmetic colorants.
Composition

Recycled / Recyclable
Packaging made of recycled and recyclable materials makes possible the circularity of raw materials.

Free of animal-derived ingredients
All Frosch formulas completely avoid the usage of animal ingredients.

Microplastic free
Water-friendly formulas clean and care without microplastics.