Frosch Sensitive Liquid Detergent Aloe Vera
High washing power for all textiles from 20°-95°C, not suitable for wool and silk. Skin-friendly formula with aloe vera and carefully selected fragrances. Without addition of preservatives, dermatologically tested, hypoallergenic.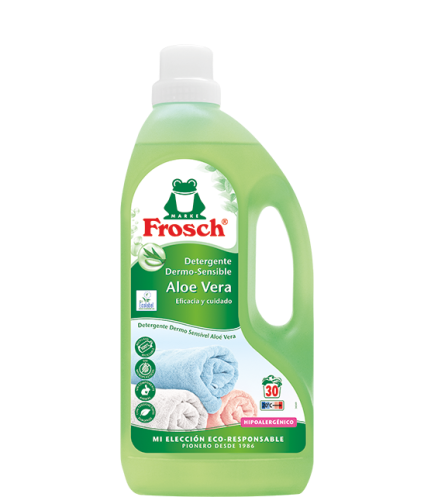 Skin-friendly
Dermatologically tested
Hypoallergenic
Pre-sort the washing (e.g. according to colour, degree of soiling, fibre type) and observe the care instructions for the fabric.
5-15% non-ionic surfactants, anionic surfactants, <5% soap, enzymes (protease, amylase, lipase, cellulase, pectate lyase, mannanase), perfumes. Further ingredients: food grade colorants, Aloe Vera Barbadensis.
Composition

European surfactants
Use of European surfactants to ensure shorter transportation routes and reduced dependency on tropical oils from monoculture.

Recycled / Recyclable
Packaging made of recycled and recyclable materials makes possible the circularity of raw materials.

Free of animal-derived ingredients
All Frosch formulas completely avoid the usage of animal ingredients.

Microplastic free
Water-friendly formulas clean and care without microplastics.