Frosch Diswashing Lotion Aloe Vera
Cleans the dishes spotlessly shiny. The skin-caring formula with aloe vera effectively removes grease and dirt. pH skin neutral, dermatologically tested, hypoallergenic.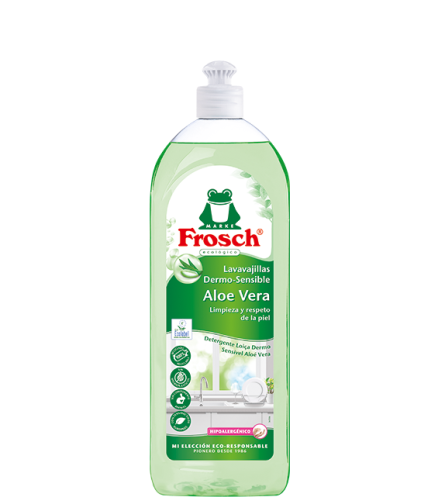 Skin-caring
Dermatologically tested
Hypoallergenic
Recommended dosage for 5 L of dishwashing water: not very dirty: 3 ml (¾ teaspoon), dirty: 5 ml (1¼ teaspoon).
5 - 15% anionic surfactants, < 5% amphoteric surfactants, non-ionic surfactants, preservative (sodium benzoate), perfumes. Further ingredients: aloe vera barbadensis, food colorant.
Composition

European surfactants
Use of European surfactants to ensure shorter transportation routes and reduced dependency on tropical oils from monoculture.

Recycled / Recyclable
Packaging made of recycled and recyclable materials makes possible the circularity of raw materials.

Free of animal-derived ingredients
All Frosch formulas completely avoid the usage of animal ingredients.

Microplastic free
Water-friendly formulas clean and care without microplastics.