Frosch Baby Softener
Provides a pleasant softness to the touch on baby textiles, both colored and white. The formula with natural chamomile extracts treats sensitive skin softly and gives a velvety sensation.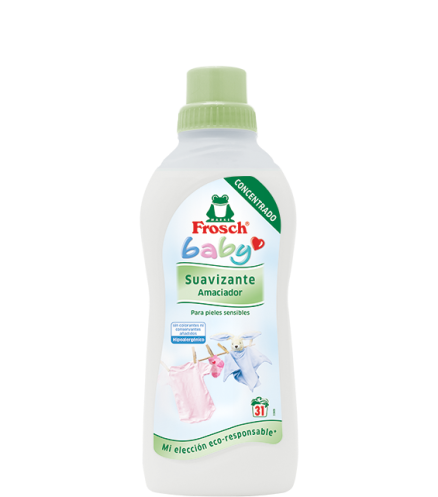 Skin-friendly
Dermatologically tested
Hypoallergenic
Place fabric conditioner in the fabric conditioner compartment.

European surfactants
Use of European surfactants to ensure shorter transportation routes and reduced dependency on tropical oils from monoculture.

Recycled / Recyclable
Packaging made of recycled and recyclable materials makes possible the circularity of raw materials.

Free of animal-derived ingredients
All Frosch formulas completely avoid the usage of animal ingredients.

Microplastic free
Water-friendly formulas clean and care without microplastics.