Frosch Baby Clean-Rinser
Soft cleaning of baby accessories such as pacifiers and feeding bottles. The gentle formulation with skin-caring pro-vitamin B5 powerfully removes stubborn stains of milk, juice and food residues and rinses off completely.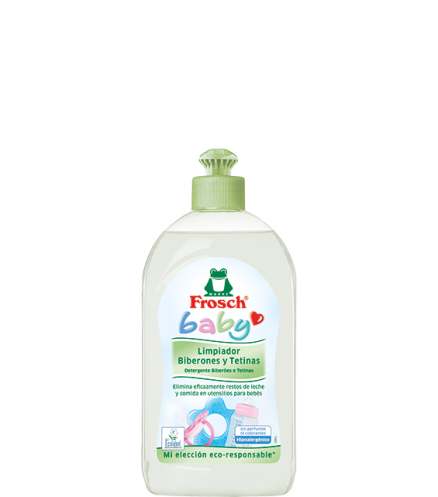 Dermatologically tested
Hypoallergenic
pH-skin-neutral
Recommended dosage for 5 liters of dishwashing water: not very dirty: 3ml (¾ teaspoons), dirty: 5ml (1¼ teaspoons).
5–15% anionic surfactants, <5% amphoteric surfactants, non-ionic, enzymes (amylase), lactic acid. Other components: panthenol (provitamin B5).
Composition

European surfactants
Use of European surfactants to ensure shorter transportation routes and reduced dependency on tropical oils from monoculture.

Recycled / Recyclable
Packaging made of recycled and recyclable materials makes possible the circularity of raw materials.

Free of animal-derived ingredients
All Frosch formulas completely avoid the usage of animal ingredients.

Microplastic free
Water-friendly formulas clean and care without microplastics.